An Invite Only Community for Men & Women Who Love to Make a Difference, Honor Women, and Enjoy Fun Life Experiences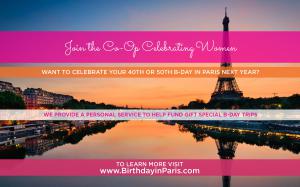 We're Rewarding Just 100 Trips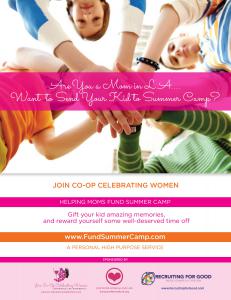 Excited to Help Fund Specialty Summer Camps
Co-Op Celebrating Women is only for members who love to collaborate, make a difference, and honor women; members enjoy funded fulfilling life experiences.
Join Co-Op Celebrating Women to Experience Life Differently"
— Carlos Cymerman, Co-Op Celebrating Women Founder
SANTA MONICA, CALIFORNIA, UNITED STATES, October 1, 2018 /EINPresswire.com/ — Co-Op Celebrating Women are invited to join after meeting founder in person. Membership is open to both men and women. Members collaborate to help fund Our Moms Work, local community service; and enjoy exclusive rewarding life experiences.
According to Recruiting for Good Founder, Carlos Cymerman, "Since 2017, we have been supporting 'Our Moms Work' to make a difference. We're launching Co-Op Celebrating Women to help fund our cause; and to reward members fun life changing experiences…for kids and adults. Members can gift and share rewards with family and friends."
Rewarding Members Fulfilling Experiences
1. Exclusive Women Travel (Rewarding 100 Paris B-Day Trips).
2. Rewarding Kids Fun (B-Days, Helping Moms Fund Summer Camp).
3. Rewarding VIP Weekends (best concerts, sports, theater in LA, NY, Vegas).
How to Join Co-Op Celebrating Women
Attend Party Celebrating Women the first Sunday of every month 10 am to 1 pm at Le Macaron 1301 Montana Avenue, Santa Monica; to meet founder Carlos in person.
Carlos Cymerman, adds, "We appreciate our Co-Op members; and deliver a confidential and personal service. Become a member, and experience life differently."
About
Co-Op Celebrating Women, is a Santa Monica Based Social Co-Op that loves to celebrate women and make a difference. We develop personal and meaningful relationships with our grateful members; together, we participate to help fund community service, 'Our Moms Work,' and enjoy fulfilling life experiences. www.Co-OpCelebratingWomen.com
Recruiting for Good, a socially progressive staffing company in Santa Monica, finding talented professionals kicka$$ jobs, since 1998. Companies retain us to find the best talent in Accounting/Finance, Engineering/IT, and Marketing/Sales professionals. We reward referrals with fun experiences. visit: www.RecruitingforGood.com
Our Moms Work is a Santa Monica based community service sponsored by Recruiting for Good; offering cost free personal career mentoring services. In 2019, coming out with funded services to offset the cost of running a business for mom entrepreneurs and business owners. Our fun mission…"When we love life…the party never ends." www.OurMomsWork.org
Carlos Cymerman
Co-Op Celebrating Women
310-720-8324
email us here

Source: EIN Presswire